The Pegasus Mistic Nebulizer Heater is available for all of the Mistic Nebulizer line of products.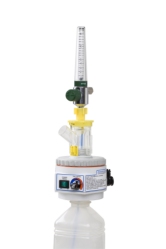 The P2001 / P2001CF Nebulizer Heater is specifically designed to accommodate both low and high flow nebulizaton. The P2001 / P2001CF in combination with the P3000H / P3100H / P3000HCF / P3100HCF nebulizers is by far the simplest, most inexpensive means of poviding fully saturated oxygen therapy at controllable dilution rates. This High Flow System allows heated saturated oxygen flow rates high enough to meet most patient inspiratory demands, yet hydrates the patient effectively.
The durable P2001 Nebulizer Heater is unbeatable for reliablility and value. Warranty is for 1 year from date of service.
The P2001 is for use with most standard water sources. When ordering for use with the Care Fusion Brand water source contact Care Fusion and use model P2001CF